Bhagavad-Gita
Online Distance Education Course
The Timeless and Universal Wisdom of the Bhagavad-Gita and its Practical Application in the Lives of Women
The Bhagavad-Gita stands as one of the most beloved classics of world literature. Seekers of Truth since times immemorial have studied the Gita to gain wisdom and guidance, inspiration and strength, comfort and peace. In the introduction to his translation and commentary on the Gita, Maharishi Mahesh Yogi writes,
"The Bhagavad-Gita is a complete guide to practical life. It will always be there to rescue a man in any situation. It is like an anchor for the ship of life sailing on the turbulent waves of time. It brings fulfillment to the life of the individual. When society accepts it social well-being and security will result, and when the world hears it, world peace will be permanent."
The above quote gives expression to the goals of our collective study of the Gita:
to bring the blessings of its timeless and universal wisdom into the mainstream of women's lives, fulfilling the innate desire to enjoy fullness of life in the state of enlightenment—full realization of our infinite cosmic potential.
to nourish and support the growth, happiness, and well-being of all our dear ones, near and far, and create a powerful momentum toward a permanent state of peace within our whole world family.
These are the goals we cherish in undertaking this historic phenomenon of conducting an on-going course of study on the Bhagavad-Gita with women throughout the world. We warmly invite you to join us!
Comments from Course Participants
"Since I've begun this course, the Bhagavad-Gita went from being a book on my shelf to being a living reality in my heart. I have come to learn that it is a guidebook for life, a companion in times of challenge, and a checkpoint for personal growth. I know now that I will never be without it."—Amy from the United States

*

"Listening in to the lessons each week has become part of my life, just like meditating every day. I can't imagine life without this precious knowledge."—Sheila from Canada

*

"Every week in this course it's like I've just received a new advanced technique – a jet blast of evolution and new knowledge for living, creating more balance and integration at a time of my life which is full of external change."—Annie from England

*

"For me, this Gita course is a great source of light, joy, and fulfillment. It is increasing the clarity, liveliness and discriminative power of my mind and at the same time waking up  great love, joy and patience in my heart. I feel like a blessed drop in a big ocean of devotion."—Marija from Serbia
The course is conducted in English, but is open to women from all countries. Please see short samples of the knowledge featured below.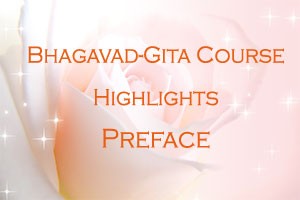 Bhagavad-Gita Intro—Preface
This 3 minute talk features a taste of the depth of knowledge contained in the Bhagavad-Gita Preface.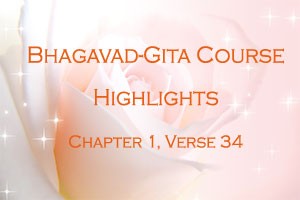 Bhagavad-Gita Mini Talks: Chapter 1, Verse 34
Enjoy the nectar of the Bhagavad-Gita for bringing enlightenment, success and world peace.