Free webinar for women practicing TM®
or the TM-Sidhi Program®.
Featuring new presentations and guest
speakers every month.
Feel the support that only women
together can create.
 This month's webinar:
Part 2: Experiences of Lady Seers Living
Unity Consciousness—
Recorded in the Vedic Literature,
Described by Maharishi
  
Presented by Dr. Susie Dilbeck, phd
Sunday, July 18, 2021, 3 p.m. ET
Tuesday, July 20, 2021,  1 p.m. ET
Request Zoom link:
 
Matri Mandala℠—TM® Women Circles was inspired by women in several Transcendental Meditation® centers desiring to accelerate their spiritual development and increase their support for the Mother Divine Program℠.
In the Sanskrit language Matri refers to the nourishing power of Mother and Mandala means circle, or 'invincible continuum.'
Matri Mandala—TM Women Circles provide an opportunity for women practicing Transcendental Meditation to inspire and support each other on their path to enlightenment, to come together to enjoy knowledge from the leaders of Mother Divine℠ and other leaders of the women's wing of the TM organization, and to increase financial support for the Mother Divine Program. See frequently asked questions below.
 Matri Mandala—TM Women Circles benefits:
Within each Mandala, each Circle, women share the joy of enriching their experiences and understanding of higher states of consciousness.
Leaders of the The Mother Divine Program℠ inspire the Mandalas through monthly conference calls with themes centering on Maharishi's Vedic Science, including the knowledge of higher states of consciousness, education for enlightenment, mechanics of creation, and fulfillment of desires.
When women practice Transcendental Meditation® and the TM-Sidhi® program in a group before or after the Matri Mandala calls, they create greater harmony, coherence, and peace in the world. (See our World Peace section. https://www.motherdivine.org/about/world-peace/)
Women coming together to deepen their experiences and knowledge during the Matri Mandala—TM Women Circles calls enliven within themselves the qualities of Mother Divine, such as bliss, softness, and fulfillment, which profoundly nourishes their families and environment.
The Mother Divine Program also provides retreat facilities— a "sanctuary of silence"—where women can attend courses and rejuvenate, deepening their inner experiences in the nourishing, blissful atmosphere of the Mother Divine Program.
Support for the Mother Divine Program
To complete the circle, the Mandalas help to support, perpetuate and expand the Mother Divine Program through financial donations. All contributions are welcome and warmly appreciated. Each will add a wave of support to the Mother Divine Program.
In addition, Matri Mandala members may wish to contribute in other important ways such as offering their time, skills, or expertise to help sustain and expand the Mother Divine Program.
The Idea Is Spreading
The Matri Mandala initiative began in June of 2014 and now there are many Mandalas supporting and nourishing women in TM® Centers throughout the United States. Women are coming together to enjoy profound knowledge on the Matri Mandala monthly calls, as well as to enjoy the bliss of supporting the expansion of the Mother Divine Program. Our vision is that very soon there will be hundreds of Matri Mandalas throughout the United States and around the world.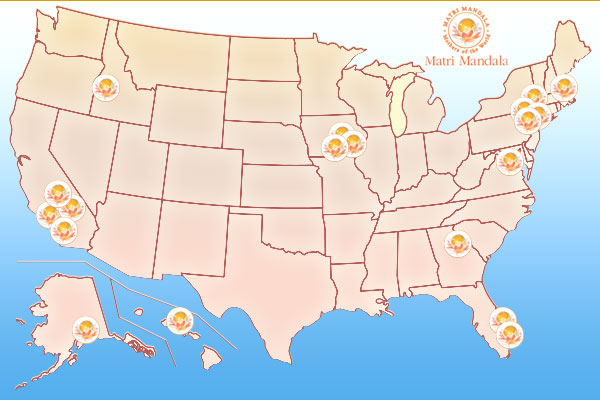 How to join a Matri Mandala—TM Women Circle
If you would like to join a Mandala, or attend a call, please email . Please let us know where you are located and we'll connect you with an existing Mandala, if there is one in your area. If there is not yet a TM Women Circle near you, and if you are a Sidha or a Meditator, you can ask a lady certified Governor (i.e. TM teacher) in your area to create a Mandala. Or, if you are a certified Governor and would like to create a Matri Mandala, please email us at the above email address.
Comment from a Matri Mandala—TM Women Circles member
"So many fields of knowledge expressed simply and with utmost clarity by our enlightened Mother Divine—in these delicate times for the world we are even more aware of how precious Mother Divine is and how significant Matri Mandala is for the growth of collective consciousness".  J.B. FL
Matri Mandala FAQ's